Her Excellency the Governor (Acting) Performs Her First Official Duty
15th December, 2009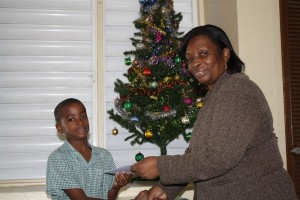 The Honourable Deputy Governor, Mrs. Sarita Francis who was on Friday December 4, 2009 sworn in as acting Governor, performed her first official duty on Monday December 7th, 2009. Mrs Francis presented the Governor's award to seven-year-old Sydni Buffonge, a grade three student at the Brades Primary School. Sydni, who was awarded the top prize in the annual Governor's Christmas card design competition, entered the winning card which depicted Montserrat Masqueraders. Every year the winning design is used for the Governor's official Christmas card.
Other winning designs were created by Tiffany Weekes & Kadesa Cabey of Samuel Academy; Jonique Morris & Juan Osborne of St. Augustine Roman Catholic School; Terencia Allen & Shermarrie Weekes of Lookout Primary School, and Olajuwon Williams of Brades Primary School.
Each student received a cash prize donated by His Excellency the Governor, Mr. Peter Waterworth. Also, the participating schools in the competition received school equipment donated by His Excellency, the Governor..